Is Viacore Nutrition FDA-Certified?
Yes we are! Learn more below.
Product Safety and Quality are Our Priorities
Viacore Nutrition places the highest priority on ensuring that our products are manufactured in a clean, quality-controlled environment. We proactively request audits of our facilities and processes by external certifying authorities such as Eurofins to ensure the highest standards are met. We are CGMP certified, registered with the U.S. Food and Drug Administration (FDA), and are licensed as a Food Manufacturer by the Oklahoma State Department of Health.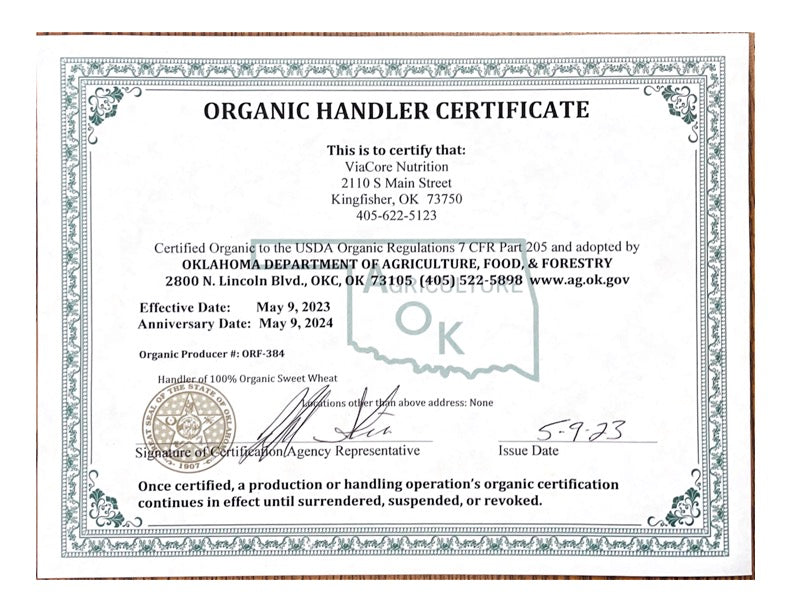 Are Your Products Organic?
Our organic products are handled in a facility certified by the State of Oklahoma as meeting organic food standards.
Quality Manufacturing Processes at ViaCore
Collapsible content
Transcript for "Quality Manufacturing Processes at ViaCore" Video

[00:05] Here's a glimpse into our manufacturing facility and the high standards our products are held to.

[00:10] In addition to local and state agencies, our facility is inspected and audited by the FDA and other nationally-recognized third-party agencies.

[00:20] Our facility is cGMP-certified, which is a step beyond GMP.

[00:27] cGMP stands for Current Good Manufacturing Practices.

[00:31] This means nationally-recognized third-party auditors verify that the most current technologies and procedures are being used throughout the facility and manufacturing process.

[00:42] Upon raw ingredients landing at the receiving docks, they are quarantined until testing procedures are completed and ingredients are validated.

[00:51] Even though we only work with top-tier reputable suppliers, raw ingredients are not allowed into our production line until we have verified the accuracy and purity of ingredients.

[01:02] In addition to verifying there are no contaminants, ingredients that are required to be temperature-controlled are kept in specific areas.

[01:10] A highly-calibrated spectrometer gives each ingredient a fingerprint. When that ingredient is received in future shipments, the fingerprint is verified.

[01:20] Facilities that skip this step wouldn't know if they are receiving creatine, baking soda, or salt.

[01:26] Batch records are created for each product, formulation, and flavor variation.

[01:31] Not only does this record list the exact amount of each ingredient, it will even include which scales are being used, how to calibrate that scale,

[01:40] which blender to use, which scoops, which jugs, and which labels.

[01:45] The batch record will also list any allergens.

[01:48] Ingredients are precisely weighed by one person, then double-checked by a different person, then checked once again by our quality control team.

[01:57] All weighed-out ingredients are put into separate bags and then put together to create a "kit" for that specific product. This kit is also known as a "lot."

[02:06] Each lot has a number, which is printed on every bottle, bag or jug that it is packed into.

[02:11] This allows for the tracing of each ingredient all the way back to when that ingredient landed at the dock.

[02:18] Because of confidentiality agreements, we are not allowed to disclose our client list—but we provide products for over 400 different brands,

[02:28] some of which are outside of the U.S. and have very strict policies for product verification and importing.

[02:34] So you can be assured: our practices and procedures are "on point."

[02:39] People select our facility because of our low overhead, small minimums,

[02:43] and thorough and detailed procedures followed in procuring raw ingredients and producing finished goods.

[02:49] Rest assured: if it's on your label, it's in the bottle—and nothing else.
Ready to move forward with your own brand?
Send us a quick note on our "Contact Us" page and we will guide you through the process.